Use reliable automation strategies to streamline your marketing campaigns. The Ascent outlines several tips for creating impactful marketing automation strategies.
Marketing automation is the great equalizer, allowing small businesses to play like the big leaguers. It helps you get things done, saves you loads of money and improves your overall productivity, while watching your favorite Netflix series.
The best part is that setting up a robust marketing automation sequence isn't rocket science.
With reliable marketing automation tools and strategies, you can set up your automated marketing funnels in minutes and have them running 24/7. It's awesome.
Read this guide to learn how to create effective marketing automation strategies to streamline your marketing campaigns.
What to consider when creating and implementing a marketing automation strategy
Before jumping on the marketing automation bandwagon, consider these crucial success points in your automation strategy.
1. Your goals
Establish your goals for implementing marketing automation. Having a clear goal refines how you will incorporate automation into your marketing strategies.
For example, do you plan to use email automation to get rid of manual email marketing tasks? Or is your main goal to reduce costs? Be clear about your goals so your marketing automation strategy aligns with them.
Without a clear goal, you run the risk of implementing automations that don't have a clear direction and won't bring you meaningful results.
2. Software integration with your current systems
Make sure your marketing automation software integrates with your existing platforms. This avoids manually entering volumes of data from your email marketing automation tool into your existing systems.
Use marketing automation tools with an open API or built-in integrations to connect your apps and support your marketing plan and strategy implementation.
3. Performance measurement
Define metrics to measure the effectiveness of your marketing automation strategy.
Choose an automation platform that offers in-depth analysis of your marketing campaign performance so your sales team can track every touchpoint or prospect interaction.
This will help you monitor where your automation efforts are succeeding or failing, giving you insights to improve specific areas and processes in your marketing automation strategies.
6 Marketing Automation Strategies You Can Use in Your Small Business
Take your small business to the next level by harnessing the benefits of marketing automation. Below are some marketing automation strategies perfect for small businesses.
1. Set up drip campaigns
Drip campaigns allow you to automatically send emails on time. It allows you to send the right emails at the right time to the right audience.
It nurtures your relationship with your subscribers and builds trust over time, allowing you to move them deeper into your sales funnel and ultimately convert them into customers.
Drip campaigns are set to run automatically, so you don't have to send emails manually – your email marketing software does it for you.
Consider these tips when creating drip campaigns.
Set campaign goals: Establish your campaign goals so you have a compass for choosing what content or offer to include in your emails.
Add a lot of value: Send content that addresses your audience's most pressing concerns or goals. You can stand out if your content provides value and helps improve their lives.
2. Use automation for audience segmentation
Can you imagine how tedious it would be to sort through hundreds of email subscribers? You would be forced to segment your subscribers based on location, needs, gender, age, or interests, if you did everything manually.
This is why automating your email audience segmentation works so well. It helps you get the task done quickly and effortlessly, allowing you to focus on bigger and more important tasks.
Additionally, automated data entry and segmentation reduces human error. The more accurate data you have about your subscribers, the better email marketing content you can create.
3. Streamline team collaboration
Streamline your team's collaboration so your marketing workflows run smoothly. The less friction there is within your marketing team, the faster the task transfers. This allows your team to do more.
To streamline your team's collaboration, use monday.com, reliable project management software.
The software is packed with features that make your marketing projects simple and easy, including automation, task prioritization, scheduling, progress tracking via a board system, shared team calendar, and custom boards to track resources , among others.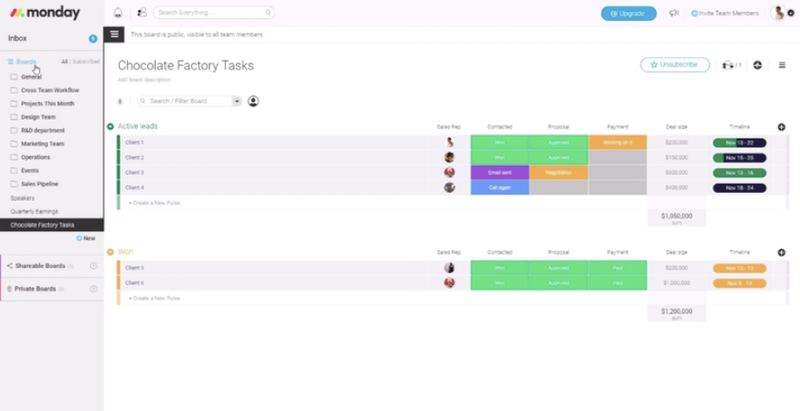 Project management platforms allow you to automate many of your marketing tasks and streamline your workflow.
4. Create dynamic content
Adaptive or dynamic content allows you to personalize the content you present to your audience. It automatically changes based on your audience's preferences, behavior, or engagement.
For example, in your automated email marketing campaigns, if you have obtained enough data from your subscribers, you can create dynamic email content displaying distinct offers specifically for men (e.g. shoes for men) or women (for example, dresses on sale). With proper data, you can segment your emails in different ways.
It is easier to increase your sales with dynamic content because your offers are perfectly adapted to their situation.
5. Planning and posting on social media
To maintain a strong social media presence, deliberately engage your audience by posting regularly. Posting regularly on social media sites isn't always easy, especially for entrepreneurs who have hundreds of things lined up on their to-do list.
Buffer can help you with this.
It allows you to create and schedule your posts on multiple social media sites from Buffer's platform. This centralizes your process, eliminating the need to log into various social media sites each time. You only need to visit one site, your Buffer account.
Whether you're meeting with clients or with your family, your social media posts can go live automatically when you set everything up through Buffer.
The best part is that scheduling your posts is super easy with Buffer. Simply drag and drop your content to the day and time you want it to go live, and you're good to go.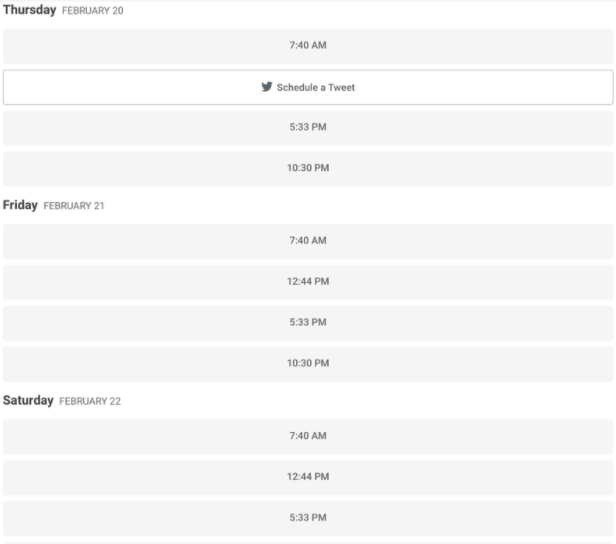 With intuitive social media marketing tools like Buffer, managing your automated marketing campaigns is much easier.
6. Measure performance
Collect crucial data from your marketing campaigns to measure the effectiveness of your marketing automation plan. Monitor your signups, audience engagements, sales, and more. Monitoring and measurement will show which initiatives are working and which are not. Thereafter, you can improve your marketing campaigns.
Choose marketing software with automated tracking and data analysis features. You'll gain invaluable insights into your marketing campaigns, allowing you to make meaningful adjustments that will ultimately bring you sales.
Build a robust marketing automation strategy today
Digital marketing for small businesses doesn't have to be rocket science. By integrating automation into your marketing campaigns, you can do more by doing less. Plus, you make your life as an entrepreneur much less frustrating since you get rid of menial and time-consuming tasks.