Most custom fabrication companies and service providers have a comprehensive list of their capabilities, services, materials, machinery, and certifications. These are the basics that help potential customers understand what you can do for them.
When prospects visit your website, they may notice that you perform a similar type of machining as another company, work with the same materials, have the same machines, and have achieved the same certifications. . So how do you get prospects to understand that your specialty is – say, very small medical parts, with extremely tight tolerances in very large volumes? Thanks to smart content marketing.
Content marketing demonstrates your expertise and works to reinforce the message of what you want your customers to know about you. It does this by using many forms and varying lengths of content, such as social media posts, blogs, e-books, and videos.
A marketing strategy to showcase your sample parts
As a custom fabricator or service provider, your biggest lead generation opportunity is to show the world that you specialize and excel in certain industries, specific geometries, and quality levels. The majority of business owners in the custom manufacturing space who are new to marketing find themselves stuck trying to overcome this problem, especially without creative marketers to help. This article will walk you through creation of a marketing strategy that promotes your business and increases your sales.
To get started, take a look at your client's waiting room or conference room. You may notice:
A display case in your entryway full of sample parts

A table in your conference room displaying sample rooms
When you meet with customers, do you show them samples of parts from your company during their visit? You're probably communicating to them the quality of your team, the levels of complexity you can achieve, and the quality you can deliver. But when travel can be difficult for a prospect, the power of digital marketing can help deliver an experience similar to an in-person visit.
Custom fabricators are under NDA on some projects. So how do you choose the right projects to promote? Here is a useful strategy that will cover all your bases:
Have at least two examples of your "bread and butter" work:

It's going to come from the industry you're best known for. Your content should be a representative part of your capabilities for your broadest customer market. Talk about the benefits of how you solve your customers' problems.

Have at least two examples of work in an industry that you are lesser known about but would like to develop as a market:

These projects should show your competence and familiarity with this market. Your content should demonstrate how you understand industry standard requirements.

Have at least two examples of pure customer service:

You know you have a great story about when your engineers solved a problem the customer couldn't solve on their own. Machinists and logistics teams have a history of their dedication to ensuring a customer received the delivery they needed in an almost impossible time frame. This type of content helps build trust that you will get the job done and keep the customer first no matter what.
Read more: The Value of Customer Testimonials and Case Studies – How to Create Them
Build content marketing based on your project plans
Now that you've selected these sample projects, we need to extract some data to post on your website (you've probably collected it already and don't even know it). Each of your projects has a project plan or work order with all kinds of work documentation. This contains a treasure trove of useful information for creating pages to engage your buyers and turn them into sales opportunities.
Here is an overview of a sample list of information that is beneficial to include (note: this list will vary depending on the type of custom manufacturing capabilities and services you offer):
Product Name : Give the project a name that will help users understand why they should be interested. You want them to understand your full capabilities, not focus on one project.
Project scope: Provide an estimate of annual room usage and schedule constraints.
Product Description: Provide a description of the part you made. This should give the reader a good indication of what it is and what it is used for.
Product application: By describing the app, you can connect the dots for a potential customer. If they know you know their use case, they are more likely to contact you.
Capabilities and processes: List all the features you were responsible for providing. Give your buyers an idea of ​​what it's like to associate with you.
Equipment used: Equipment information is important to procurement and engineering groups. They can know just by the machines you have if you can handle their project.
Tightest tolerance: Let them know what you can do. This is a critical decision-making element for most projects. The tighter the better!
Product length/width/height specifications:

One piece envelope dimensions help your potential customer understand the overall size you can ship or specialize in manufacturing.

Product weight: The weight of each piece will identify your ability to ship locally or nationally.

It will also identify the scope of projects you can handle if the weights are very large.

Color: Although it seems trivial, every piece of information can help a potential prospect decide to contact you.
Material thickness: The thickness of the material you are working with or producing will allow users to better understand how your team and the raw material will fit into their project.
Material type: Provide your material type by the appropriate ASTM designation along with familiar terminology.
Material finish: If you plated the part or polished it to some standard quality, be sure to provide the information.
Secondary operations: Applied secondary services can set you apart from the competition. If you can supply the finished part from one location, it's better for your customer's supply chain. Today's buyers are looking for complete transparency.
Industry of use: Take this opportunity to show the prospect that you know their industry and that you know how to work within the required standards and guidelines. Use high-quality, industry-related images to capture the prospect's attention.
Volume: It is extremely important! You hate getting bids for the wrong order size. Be very clear here about what size orders you are willing to accept. This allows you to eliminate these unwanted requests.
Packing and Shipping: Describe the packaging you provided for the parts and the shipping option that was used.
Standards met: If you worked to any standards on the project, list them here. This gives confidence in your abilities to meet the requirements or customizations that a potential customer will request.
Tests performed: This is your chance to promote your quality approach. The more complex the part or the more critical the use case, the more a potential customer will want to see from that section.
Drawing file type used: Let the user know which file types you prefer and what you used for the project.
Parts Management Services: If warehousing or JIT services were provided with the project, include information on the details of the engagement.
Delivery time: Lead times help a prospect understand what working with you will be like if they have a similar project.
Place of delivery : If possible, include the city and state where the order was shipped. If that gives too much information, just provide the state. This is important for geographically targeting your business with search engines.
Wow, that's a lot of info! What prospect wouldn't be happy with all that great content? Know who else will be happy with it: the search engines. Content marketing is one of the best ways to boost your SEO. SEO stands for search engine optimization and is the next step in driving website traffic and increasing your website's visibility online.
Learn more about using local search to attract customers to your area in: Top 5 SEO Tips for Manufacturers
Examples of Custom Manufacturing Websites
Learn how Gary Manufacturing reinforces the branding of its custom products with a Materials tab on its website. When you understand what your buyers need, you can more easily create the content they're looking for, which keeps your brand strong and fuels lead generation.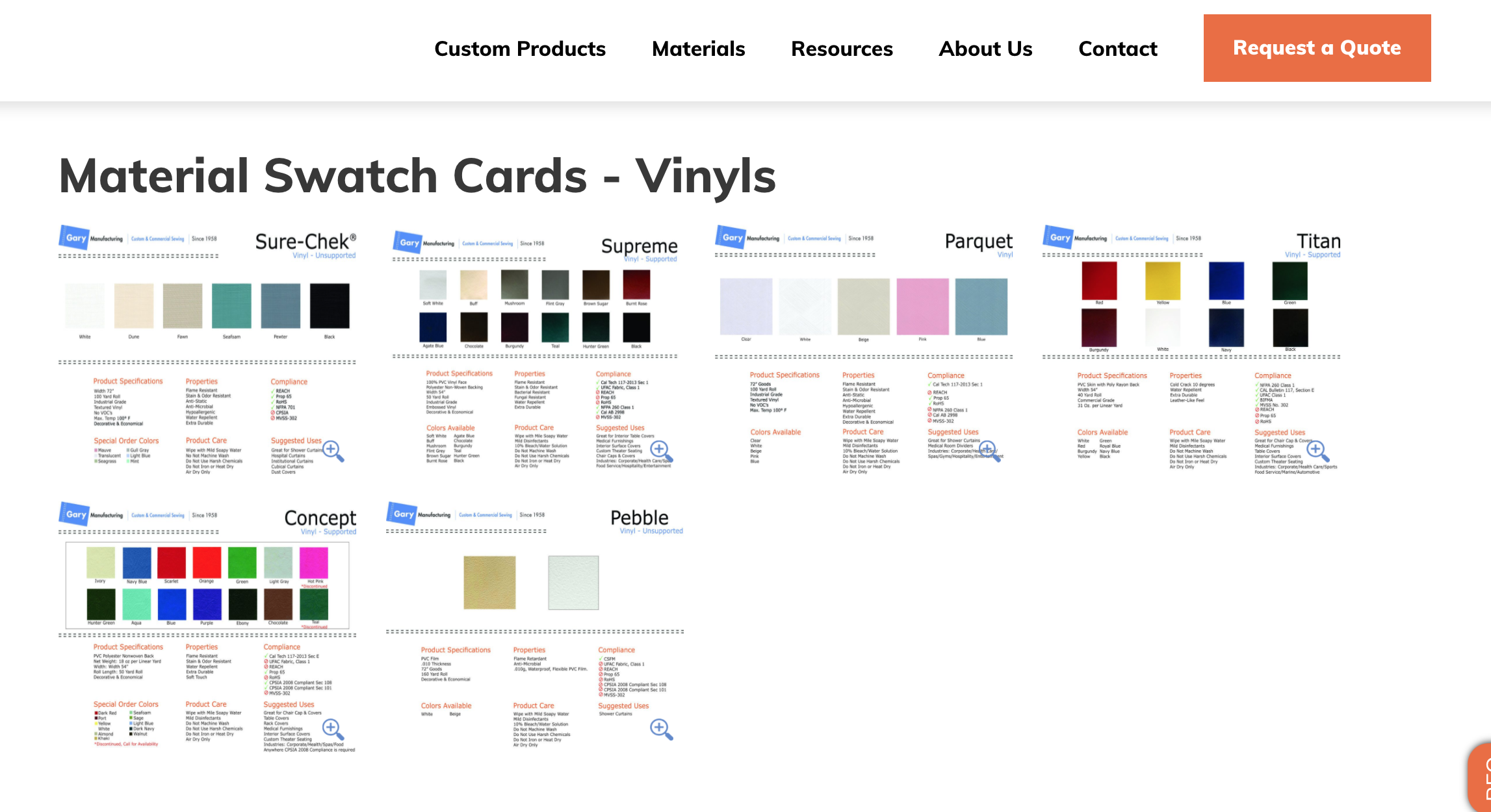 The Warren Paint & Color Co website incorporates aAll the elements – design, copy, navigation, technical architecture – that engage B2B buyers with educational content, encouraging them to do business with Warren. Their online product catalog is powered by Thomas Navigator which gives engineers and buyers instant access to what they need.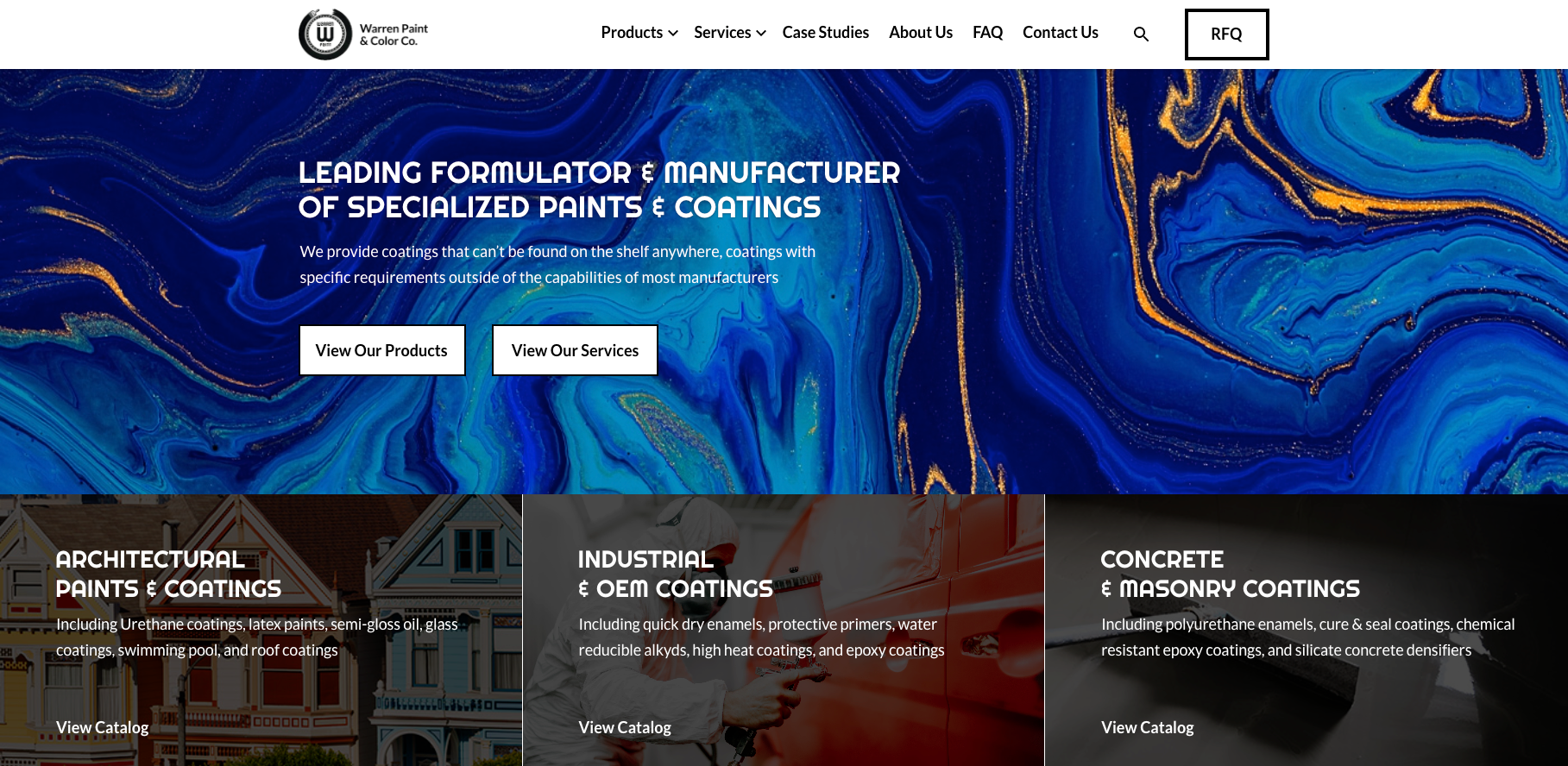 Ready to pull out those project plans and start planning the best content pages your website has ever seen? There are many components to a lead-generating content marketing strategy. Here are some resources to guide you:
If you need help growing, Thomas can help. We're not your typical agency marketers who wouldn't know about ISO certification of a popsicle. We are engineers. Technical writers. Web strategists. And more. We offer a digital health check to let you know what you can improve online to help you stay ahead of your competition and maintain your brand's strength in today's digital world. Our singular focus for over 122 years has brought buyers and suppliers together in the industrial and manufacturing space.
We set a record for quotes in the first quarter, increasing them by 197% over the previous year. The average quote value has increased. We received orders the same day. The sales team can't believe how many good opportunities they have now. Participating in the Thomas program has changed the way I market my business.